If you're thinking about picking up sewing as a hobby, you may be wondering what yo look for in a sewing machine. There are many different factors you should consider when purchasing your first machine, such as the number of built-in stitches, the type of fabric it can sew, and the weight and size. You also want to make sure that the machine is easy to use and comes with a comprehensive instructional guide.
In this article, we'll discuss some of the key features to look for in a beginner sewing machine. We'll also provide some recommendations for machines that are perfect for novice sewers. So whether you're just getting started or you're looking for an upgrade, read on for tips on choosing the perfect sewing machine!
Machine Type
Computerized, electric, and mechanical sewing machines are all different types of sewing machines. Even while true mechanical devices are no longer as common as they were, some sewers still enjoy using them as a tribute to their youth.
Looking for the perfect machine, see our picks for Best Sewing Machine for Beginners
There are positives and negatives to using any given sort of device.
Computerized sewing machines have built-in stitch kinds that range from simple to complex, all of which may be used at the press of a button. A lot of the guesswork is removed from sewing with the use of these machines, which may be very helpful for novices. One drawback of computerized sewing machines is the potential for software-related complications to occur. Repair and maintenance costs may be higher than for a mechanical machine because of this. A great example of a beginner sewing machine that is computerized is the Brother CS6000i below.
The needle assembly and other machine parts are driven by an electric motor, but the settings and stitches are adjusted using a mechanical knob on an electric sewing machine. They're a cross between a manual sewing machine and a digital one. Straight and zigzag stitches of various lengths and widths are available on these entry-level machines, making them ideal for simple sewing jobs. Decorative embroidery stitches are typically missing from the more condensed selections. In addition to making things easier to choose from, maintenance and repairs are typically easier and less expensive as well. A solid electric sewing machine that is great for a beginner quilter is the Janome MOD-19 shown below.
Simple tasks can be accomplished with mechanical sewing machines. Hand-cranking the wheel or pumping the foot pedal is how these machines move the needle. However, these machines are slow and simple to use. This style of equipment is known as a treadle sewing machine, and your great-grandmother may have used one. Nowadays, the majority of individuals buy these gadgets as novelty items.
Sewing Machine Size
Smaller mini-sewing machines can be as powerful as full-size machines, but they're more expensive. Consider where you plan to use and store your sewing machine when determining what size it should be. When you're short on crafting or storage space, a compact sewing machine with a small footprint is great. A standard-sized sewing machine is ideal if you have a specific sewing area and are seeking for a full-featured machine. With a wider table space, this sort of machine may be better suited for larger stitching jobs.
Weight of the Machine and Portability
The weight of sewing machines varies widely, from as little as three pounds for a lightweight model to up to 30 pounds for a heavy-duty one. Consider the sewing machine's weight because it could affect its portability. A sewing machine that is easy to move about is ideal for a beginner sewing machine if you plan to take it to sewing lessons and quilting groups, as well as to a friend's house or to a workshop.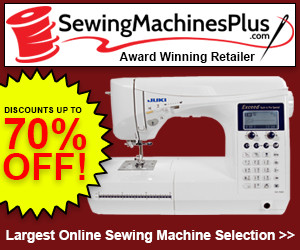 The weight of a sewing machine is largely determined by its motor and housing. While metal-based machines tend to be heavier, they have the advantage of being more stable and long-lasting when handling huge projects or heavy materials.
Features
Despite the fact that all sewing machines serve the same basic goal, the features that can be used to accomplish that objective vary greatly. A presser foot, quilting walking foot, or other speciality equipment that might be appropriate for your project should be considered before purchasing a sewing machine. Self-threading sewing machines are a popular choice for many individuals. Task illumination, a drop-in-bobbin, and a buttonhole maker are all further user-friendly features to keep in mind.
Material of the Machine
Plastic and metal are the two most common materials used to construct sewing machines. Plastic-body machines are less expensive and lighter than their metal counterparts. The majority of sewing machines for hobby and home use are made of plastic. Because they cost less to make, they're more accessible. Because of the increased variety of sizes and less weight, they may be moved more easily from storage to the tabletop.
Metal machines are highly long-lasting, but they are also heavier and more expensive. Sewing through strong materials like denim, canvas, and leather is no problem for industrial metal machines. Metal sewing machines are common in garment manufacturing and tailoring and modification shops.
Skill Level
It's not difficult to operate a sewing machine meant for home use. Your sewing machine's features will rely on your ability level, however. Determine what kinds of sewing tasks you'd like to take on. Do you want to learn how to make pillowcases, home furniture, clothing, and other items for yourself or for your family? Is there anything more you'd like to try? Most home sewing chores can be handled using a basic electrical sewing machine. In order to complete quilting and embroidery projects, you'll need a sewing machine with more stitch possibilities and a longer sewing arm.
New to quilting: let us help with our guide for the Best Irons for Quilting Review
More features on your sewing machine mean more work for you, especially if you are just learning how to use it. Sewers with a lot of experience may have an advantage when it comes to operating computerized machines and resolving frequent sewing challenges. An inexperienced sewer may be better served by utilizing a basic electric sewing machine with a few options and learning how to fix typical machine difficulties without the assistance of an onboard computer.
Types of Stitching
Sewing machines come included with the ability to sew a straight line. But while choosing a sewing machine, keep in mind the quantity, types, length and breadth of stitches it can produce. In some sewing projects, the ability to select and alter stitches is necessary.
Changing the stitch widths and lengths is quite common on sewing machines. If you want a machine that can do a variety of things, seek for one that has this capability, even if it is on the more affordable side or intended for children. But remember that while though a large number of stitches may seem like a good idea, you will generally only utilize a few of them in most sewing projects.
Here are some useful/popular stitches that will take care of most of your sewing needs:
Some of the most common and useful stitches for sewing are listed below:
Almost all of your sewing projects will require you to use the straight stitch. In most cases, you can set the stitch length to anywhere from 0 to 5 millimeters.
Back and forth, the zigzag stitch is used to create a completed or reinforced edge on the hems and seams of garments. Using this stitch on elastic cloth is a no-brainer.
A variation of the zigzag stitch is known as the buttonhole stitch. It's a pre-programmed stitch that uses a specific buttonhole presser foot to automatically create a regular border. The video below from Singer is a great example of a 1-step buttonhole stitch.
To sew knits and other flexible textiles, use stretch stitches. Once sewn, these stitches allow the fabric to expand.
Using a blind-hem presser foot, the blind hemstitch creates practically invisible hems on pants and skirts.
Sewing Machine Attachments and Presser Feet
Using a presser foot, the cloth is held flat as it is fed across the stitch plate and sewn. When stitching, the fabric is kept flat to prevent it from rising and falling together with the needle. Presser feet are available in a wide variety of styles to accommodate a wide range of materials, stitches, seams, and more. To better understand their operations, we've listed the most common types of presser foot that you'll find on most machines.
In straight single-needle machines, the all-purpose foot can be used for any type of sewing.
For ornamental stitching, an open-toe foot's vast open region in the front of the foot is ideal. It also allows the needle to travel in a larger range of directions when stitching the decorative elements.
A Zipper foot has a tiny width, which makes it easier to stitch close to the zipper.
The rectangular shape of a buttonhole foot aids in the creation of precise and uniform buttonholes. On computerized machines, they're frequently utilized in conjunction with the preprogrammed buttonhole stitch.
The fabric fold is guided by an extension on the front of the blind-stitch hem foot. The blind hemstitch is completed with the help of a foot.
Other styles of presser feet for quilting and embroidery are also available. This type of presser foot is usually purchased separately from standard machines.
Dust covers, magnetic sewing guides, needles, and bobbins are among the other sewing machine accessories that may be purchased.
Start with a Budget
It's best to start with what you can afford before looking at options. Most sewing projects can be successfully completed with a simple straight stitch and zig-zag machine, including stretch fabric and leotards, as well as many other types of cloth.
If you don't spend too much, you'll be more at ease with your new machine and less inclined to take it too seriously. When it comes to stitching, a sewing machine isn't just a piece of decor.
The Cost vs Convenience Ratio
Consider the cost of any upgrades you make to your computer while deciding on a budget.
For those of you who don't need all of these, here are a few extras that may be worth your while.
Automatic Trimming of Jump Stitch: When a machine skips from one design element to the next, it leaves a trail of thread.
Instead of trimming jump stitches, basic embroidery machines automatically cut at the end of each color. However, if you use a more expensive machine, you don't have to manually cut the jump stitches.
Magnetic Hoop: When quilting a finished top, a machine with a magnetic hoop option may be especially handy if you're considering using an embroidery machine for quilting.
Personal Use vs Home Business
Is all you want to do making applique onesies for your grandchildren's babies? What about starting a home business to earn some additional cash?
A machine that will help you pay your mortgage will require more bells and whistles than one that is only for your personal use.
Features beginners should prioritize in a sewing machine
As detailed in our categories of what to look for in a beginner sewing machine, it is usually best beginner sewers to stick to basic sewing machines. You do not need to feel like you need the most expensive high end machine to get started. As you become a more experienced sewer you can always upgrade later.
Get up and quilting in no time, Introduction to Quilt Kits
My best suggestion for a beginner sewer is to learn two basic stitches on your sewing machine, a straight and zig-zag stitch. A straight stitch is included on all machines and a zig-zag stitch is included in almost any machine I have seen. These two basic stitches will allow you to create so many great hand-crafted items.
Conclusion for What to Look for in a Beginner Sewing Machine
When you're shopping for your first sewing machine, there are a few features you'll want to prioritize. A basic machine should have a straight stitch and zig-zag stitch, which will allow you to create most of the projects you'll want to sew. You don't need all the bells and whistles on your first machine – save those for later when you've become more experienced. We hope you have enjoyed this article and it helps you get started in your sewing journey. As always, let me know if you have any questions in the comments below.